Arnold Lolaev offers:
- Creation of portraits and pictures to order
- Interior Design
- Design of exterior, landscape design
- The small architectural form
- A stucco moulding and a modelled decor
- Manufacturing monuments
-
Training painting

+7-906-7352006
(A workshop of the artist)
Paintings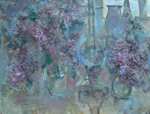 Сирень
Painting, oil on canvas

Artist Arnold Lolaev
Painting, sculpture and the graphics
Arnold Lolaev — the member of the Union of Artists of Russia, works in different genres: painting, the graphic, and sculpture.
In 1971 Arnold Lolaev has ended the Moscow State institute of a name of Surikov. The participant of many Russian and international exhibitions.
Its works are in museums and private assemblies of Russia, and also decorate interiors of premises and ex-terriers in Moscow and many cities of the adjacent states.
Arnold Lolaev offers training to the fine arts (training of painting and to drawing, a sculpture), accepts orders for creation of portraits and pictures, the decision of interior design for apartments and offices. In design of premises the author's pictures in various technics, a mosaic, frescos, oil and a decorative sculpture is used.
Artist also makes unique memorial monuments and sculptural images.
The Refined taste and high quality are guaranteed.
Last paintings: Lilac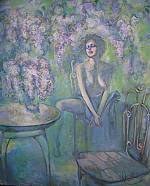 Oil and Acril on canvas/cardboard with levcas $15000
Buy now!
Publications
02.08
For Sale by Owner
We would like to pay your attention at the website and to get to know some more information of FSBO.

31.08
Publications about art
It is planned to prepare and publish reviews of a theme of painting and a sculpture, and also announcements of exhibitions.

.
.